AbsolPublisher :.

| | |
| --- | --- |
| Maintaining a website can be a daunting and expensive process. Keeping track of the content and making sure the final result is as you imagined it is almost impossible without the proper systems in place. | |
| | |
| --- | --- |
| | Website navigation needs to remain intact, look-and-feel of the website should remain consistent across the site, while at the same time, content must be of the highest quality at all times. The perception of the website user should remain positive at all times and any unprofessional content or page on your site could inject doubts about your company into the users mind. What you need is a Web Content Management system to manage the process, what you need is AbsolPublisher. |
AbsolPublisher wins Best of Breed Award
AbsolPublisher was awarded the ComputerWeek Strategist Best of Breed Award for 2005 in the CMS Category. We are honoured AbsolPublisher has been recognised as the best Content Management System in South Africa. Read more
AbsolPublisher will save you time updating your website, it will reduce the total cost of maintaining your website, and it will provide you with a website that will improve the userís perception of your company.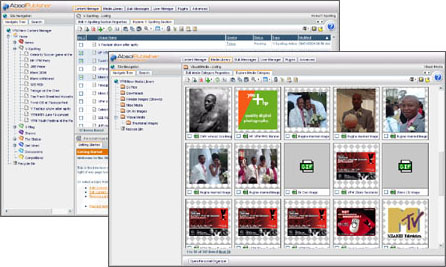 AbsolPublisher Content Management and Media Library Interfaces
On top of standard content management functions, AbsolPublisher incorporates many advanced modules which can be plugged in with ease. Modules can also be easily developed and deployed according to customer requirements which makes AbsolPublisher flexible enough to cater for a large number of internet based systems. The types of systems deployed using the AbsolPublisher solution include the following:
Corporate Websites


In this configuration, AbsolPublisher allows the business owner or marketing professional to manage corporate news, contact details and marketing collateral.
Online Businesses
Managing online business functions using AbsolPublisher is easy. Manage product categories and product pricing using a single easy to use interface.
Intranet Systems
Keep repositories of documents, corporate stationary, corporate documentation, marketing collateral, product documentation, corporate contact details, product comparisons and event calendars all under a secure password protected environment.
Extranet Systems
Allow corporate partners and customers access to specific parts of a corporate intranet system.
Online Magazines
Entrepreneurs can run a fully functional online magazine using AbsolPublisher. The system will handle newsletter subscription and distribution functions. AbsolPublisher also facilitates generation and consumption of syndicated news feeds.
If you are looking for more information regarding the AbsolPublisher solution, view one of the following pages:
Feel free to contact one of the friendly Absol staff with further enquiries regarding the AbsolPublisher Solution