On the 7th of February 2005, Absol Internet Business Solutions deployed and managed an internet cafe and wireless internet hotspot for Indaba 2005, the 10th Annual Investing in Mining Conference held at the Cape Town International Convention Centre.
Delegates from all corners of the globe converged in Cape Town and were greeted with free access (Sponsored by Resource Investor) to an internet cyber cafe comprising of 8 computers supported and managed by the Absol technical team. In addition, a secure wireless hotspot was made freely available to all delegates who proceeded to connect to the network with devices ranging from notebook computers to cellphones and personal digital assistants.
With over 2300 delegates, and approximately 60 concurrent users, the broadband internet connection was well utilised with many international visitors expressing extreme surprise and joy at the 1st world technology provided in Southern Africa.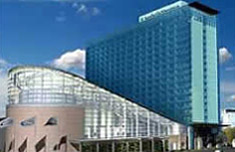 INDABA 05 Investing in
African Mining Conference
February 8 - 10, 2005

Cape Town International Convention Centre
1 Lower Long Street
Cape Town 8001 South Africa

Africa's most important mining event and the world's leading gathering of global policy makers and international finance, the Mining INDABA has raised billions of dollars and introduced the international investment community to mining interests throughout Africa. More than 350 leading companies and 35 African governments have sponsored the Mining INDABA.

A professional three-day conference, this year's tenth INDABA offers an expanded program with a full schedule of presentations, panels and plenary sessions. Speaking sponsorships are by invitation and pre-registration is recommended as events and accommodations, including a preferred rate at the new 5-star SheratonArabella, are first come, first served and space is limited.

The Mining Indaba has become an institution throughout Africa, attracting over 2,000 delegates from fifty countries and hosting over 100 exhibitors. The continent's best resource for financing, new business, and industry news, it has spawned the African Mining Partnership and many new government mining policies and initiatives. The Mining Indaba is hosted by International Investment Conferences, world leader in natural resource investment conferences.